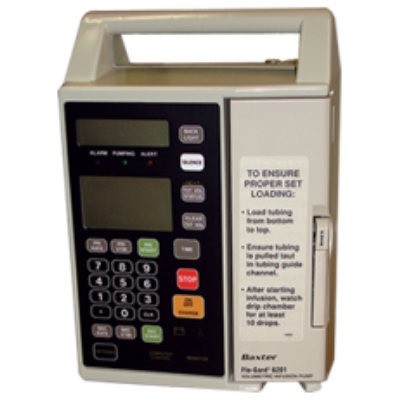 Refurbished Used Baxter 6201 IV Pump
Refurbished used Baxter 6201 infusion pumps offer both quality and value for your medical facilities. These AIV Certified Baxter intravenous pumps meet their original specifications. Following strict quality control standards, all AIV Certified Baxter IV pumps are expertly reconditioned by experienced technicians in AIV's ISO 13485:2016 certified facility. As part of our total IV pump support program, AIV provides the market with a variety of used Baxter models, providing cost-effective solutions for our customers' infusion needs.

Get expert tips on extending the life of your Baxter 6201 IV Pump with this free guide! Get The Free Guide

The Baxter Flo-Gard single channel all-purpose volumetric infusion pump uses standard IV administration sets. The Flo-Gard features automatic restart after an occlusion clears and IV set free-flow protection. This infusion pump can deliver a wide variety of fluids (including blood and fat emulsions) over a broad range of infusion rates. The Flo-Gard 6201 operates on a rechargeable battery that lasts approximately 6 hours. Battery recharge takes approximately 8 hours.


---
Baxter 6201 IV Pump Specifications:
Flow Check On/Off Display
Automatic Restarts: 9
Hospital Area 9 Choices
AirInLine Detection: 2 levels of sensitivity
VTBI Range: 1-9,999 mL
Battery Life: 6 hr at l,400 mL/hr
Battery: 12 volt, 2.0 ampere, sealed lead acid
Power Cord: Biomed replaceable 2.9m (9ft)
Communications Port: R5232 serial port
Power Requirements: ll5 VAC,60Hz,30W
Weight: 5.3kg (11.6 lb)
Leakage Current less than 50 microamps (per UL544)

Occlusion Levels: 3 levels of sensitivity
Alarm/Alert Intervals: 1-7 seconds
Slide Clamp Option: On/Off
Maximum Rate: 1-1,999 mL/hr
Computer Control On/Off
Battery Recharge: 80% charged within 8 hr
Alarm Log: Last 10 alarms
Fuse: 1/2 ampere, 250 volt slow-blow
Operating Environment: 15.5 40.6C (60-105F)
Uses Baxter Standard "S" sets
Dimensions: 20cm W x 13cm D x 29 cm H (8 in W 5.1 in D x 11.4 in H)
Flow Rate Range: 1-99.9 mL/hr in 0.1 mL/hr increments and 1-1,999 ml/hr in 1 mL/hr increments

Request More Information on Refurbished Used Baxter 6201 IV Pump

PLEASE NOTE: We are currently only able to service customers within the United States at this time.


Why buy from AIV

AIV strives to provide you cost effective options to service equipment. We offer flexible solutions to best suit your needs.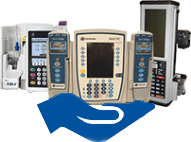 ​
Sell Us Your Equipment
Do you have old infusion pumps lying around your facility?
Turn your obsolete inventory into cash. Contact us today!
"We thank you and your team for supplying us with outstanding products and customer service."

"Very happy I stopped by this booth at VECCS2017. I have used AIV ever since."

"We've been conducting business with AIV for over ten years, and as our relationship grew, so did AIV's vast array of expertise. In the beginning, we were just ordering cables and sensors, and now AIV provides us with so much more including parts and service for our infusion pumps AIV has always provided great customer service and very knowledgeable service staff. We, as a major hospital system, look forward to what AIV will provide over the next ten years!"

AIV Catalog
Request Your Electronic PDF Copy Today!

---
Products and services offered by AIV are not affiliated with, provided or endorsed by the original equipment manufacturer.